On the day of your birth, you were likely surrounded by those who loved you, who would lead you through the rough first scary years of life, and who would stand by as you grew into a capable person. As time passed, others may have drifted into your life, and even if you didn't know it, they also nurtured and cared for you in much the same way, helping to shape the person you would become.
When a community like deviantART is born, the same common thread binds its originators and founding members together. Over the years, more and more creative beings drift into its life and strengthen its core every single day, resulting in an exponentially inspirational powerhouse for the sheer fact that they've become a part of it. That nurturing spirit, that inherent support system, that caring community inspires deviantART to grow, and it comes from inside each and every one of you.
Today, August 7, 2013, marks deviantART's 13th birthday. In Internet years, reaching the 13-year mark is a momentous occasion, and it's not one we take for granted. Simply put, we would not exist without the support and enthusiasm of our passionate members, and we're thankful for that, and for you, every day.
You can use whatever medium you prefer. If you don't prefer a specific program, we encourage you to use deviantART muro via the Add a Drawing tool in comments.

Create a piece of artwork capturing your favorite deviantART memory.

Share your creation in a comment on this article using the Add Media or Add a Drawing tools.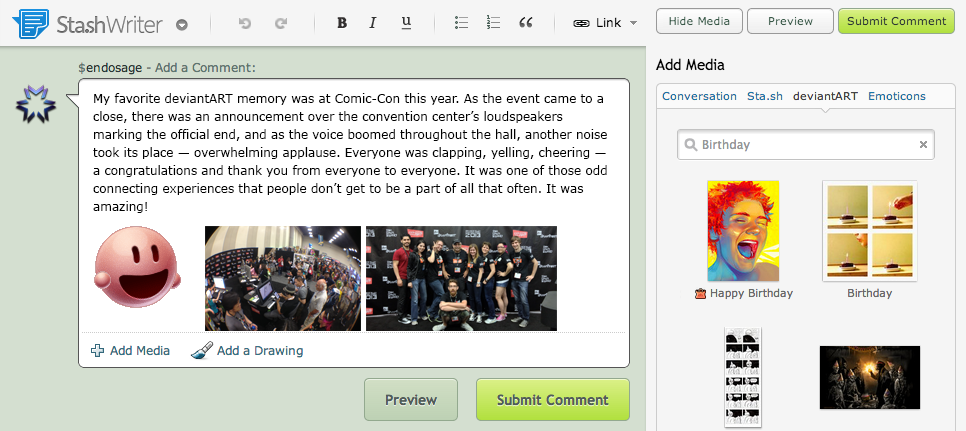 The new Add Media tool, which lets you easily add formatting, emoticons, and images to comments, can be used in full on this article. Adding images to comments by using the Conversation, Sta.sh, and deviantART tabs of the Add Media sidebar, which are normally Premium Member features, can be used by all deviants. Have fun creating and sharing your work!
Deviants who take part in this challenge will receive a special 13th Birthday Badge!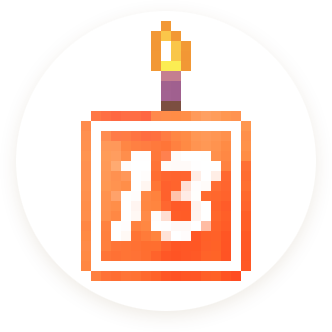 Create a 13-Word Story!
As part of the birthday festivities, Journal Skins are free to use for all deviants for the next 13 days! To help you take advantage of this, we've created a 13th Birthday Journal Skin that you can install to dress your Journal up for the occasion, or you can choose a skin from the Installable Journal Skin gallery!
In addition, we have a Journal project for you and your friends to get involved in!
Create a 13 word story and post it in a Journal titled ThirteenWords.

Encourage your friends to continue the story in the comments on that Journal.

Help craft a story with others!

Browse the Journal Portal

to find other deviants who are taking part, and comment on their ThirteenWords Journals!

In addition to the events included in this article, the Community Volunteers are holding contests and events throughout the day, so be sure to check them out and get involved!
Events Hosted by The Community Volunteers »