Taking a look back!
Before we look ahead to the expanse of artistic potential that is the new year, we wanted to look back at some of the amazing things the deviantART community accomplished in 2011.  We continue to be humbled, year after year, by the nurturing power of the community home grown by deviants like you.  Artists and art enthusiasts of every style you can imagine consider deviantART their home on the Internet for all things creative, and their talent and enthusiasm inspire our community to greater heights than ever thought possible.

Incredible stats
from
2011!
4,200,000+
New Community Members
435,000,000+
Unique Visitors
25,000,000,000+
Pages Viewed
31,000,000+
New Works of Art
525,000,000+
Comments Posted
497,000,000+
Favorites Given
78,000,000+
Notes Exchanged

Top tens lists!
Top 10 most

deviations submitted in 2011:
Top 10 most

deviants who joined in 2011:
Top 10 most

groups that formed in 2011:

  Jan. 19th: Free Premium Membership Day
For the first time
ever
, deviantART is holding a Free Premium Membership Day! Deviants who visit the site on
Thursday, January 19th
will enjoy all Premium Membership benefits and privileges from 12:00 AM to 11:59 PM Pacific. This means that deviants will be able to browse the site without viewing ads, see 400% more deviations per page, take full advantage of JournalSKINS, and more!
To participate in Free Premium Membership Day, simply visit the site on January 19th and we'll take care of the rest. Your account will already be granted Premium Membership privileges when you visit! Mark your calendars and tell your fellow deviants.

  30% of today's sales go to charity!
With 2012 now upon us, we want leap into the New Year on a creative note! To get the year started off right, deviantART will
donate 30% of sales
made between December 31st, 2011 and January 1st, 2012 at 11:59 PM Los Angeles, CA, time to the International Child Art Foundation.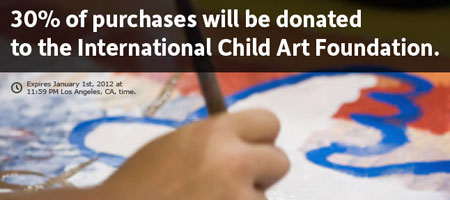 (Qualifying sales include purchases on deviantWEAR, Prints, Premium Memberships, and Groups.)  The International Child Art Foundation looks to employ the power of the arts for the development of children's innate creativity and intrinsic empathy — preconditions for a better world.

  Stay deviant!
From all of us in the deviantART family, we wish you a very happy, healthy, and creative New Year!