Get daily inspirational artwork delivered straight to your Twitter feed! Even when you're away from deviantART, you can stay inspired while keeping a pulse on the deviantART community. DeviantART's Twitter Network is a series of Twitter profiles that tweet recently popular deviations in specific categories.
The deviantART Twitter Network
Follow the categories you're most interested in or follow them all!
How it works
These accounts tweet recently popular deviations in a given category.
If the artist has a Twitter account, their Twitter username will be included in the tweet. Twitter accounts are pulled from the Twitter Widget on your profile. Premium Members, if you haven't already installed it, you may want to do this now.
Don't want your deviations shared? Simply disable sharing on your deviations and we'll exclude your artwork from these feeds.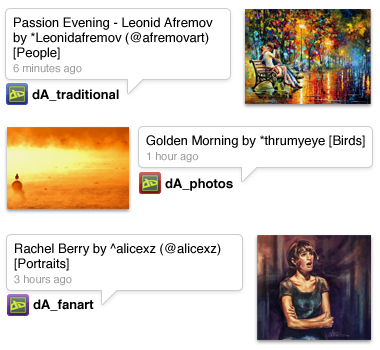 We want to give artists more exposure.
We're always trying to promote the work of deviantART artists by sharing their work with the world, not just within the walls of deviantART.com. One way we do this is by featuring member artwork on our
Twitter
,
Facebook
,
Tumblr
,
StumbleUpon
, and our brand new
Google+ Page
.
As an artist, promoting yourself can be the key to success. Having your work circulating around deviantART increases your visibility, allows you to establish your personal brand, and — if you sell your work or services — it can increase your sales. Getting your work in front of new eyes is always important, and we want to help you do this.
Give us your feedback.
Based on our data, these five categories have the highest number of submissions, most favorable response per deviation, and already have the highest number of shares on Twitter and other social networks. If you'd like to see a category be added next, please submit your recommendations in the comments! If you have any suggestions on how we could improve these accounts, whether it's the frequency of tweets, the quality of the artwork, or anything else, let us know!