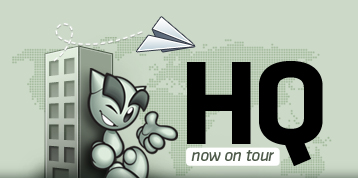 Dear deviantART. We'd like to share with you one heck of a photograph.

As you know the 2009 deviantART World Tour consists of
$
Heidi
and
$
spyed
along with three kick ass features to show off and a whole lot of community spirit. That's it. And we're bringing this barrel of fun to the 12 cities around the world that frequent deviantART the most according to our traffic statistics. In these statistics,
London is not only our number one visiting city
, it is 44% bigger by numbers than our second largest city. (
New York, where we are headed NEXT!
) There are well over 300,000 active deviants in London alone, so you can better understand why we provide very little notice for these meetups; it helps us to control how huge the groups get.
London delivered the single largest deviantMEET in deviantART history with over 350 attendees swarming to Hyde Park's Albert Memorial with just under 4 days notice!
For those who like numbers, those are the numbers. But this meeting has very little to do with numbers, instead something far more defining and important was being displayed here that far better describes us as a group of people as we exercised the single thing that differentiates deviantART from everything and everyone else; our wicked community spirit.
The photo above has very special meaning to me personally, it reminds me of the mission we are on at deviantART to bring art to the homes and hearts of every person on this little blue planet; just as easily as movies and tv and music are accessed by all. And it all begins with deviants, coming together to share and discover each others creativity.
London's meet also featured the highest concentration of staff at any deviantMEET event. Among the attendees were
$
mccann
our CTO,
$
pachunka
and
$
randomduck
from Team Make It Happen within Devious Technologies,
$
zilla774
from our Interface team, obviously
$
Heidi
and I and even
`
keiross
! Then, we had a rockstar line up of MN@ (Chat Moderators) and Gallery Moderators including
$
dxd
,
`
Narfmaster
,
`
Age2003
,
`
sine-out
,
`
leaf-lover
,
`
Vayde
and
`
Synfull
plus a long list of Senior Members.

Additionally
`
zemotion
joined again in London, making her an honorary World Tour groupie on par with
$
Heidi
and I as she's been to three cities with us!!
It goes without saying that we had a great time.
:bigthumb126008624:
:thumb126017033: :thumb126017158:
:thumb125993440:
:thumb126042942:
Also this great collage illustrates some more of the festivities;
Many many thanks to
`
greenie
for compiling it, and for being so helpful leading up to the meet. We were so well supported by the existing deviantMEET culture here in London that we felt right at home with deviants who had attended upwards of 20 deviantMEETS of their own prior to the Tour. We hope to bring this level of organization to every country and city; London directly inspires a variety of ideas for tools we can create or automate based on things that are already being done here manually that we didn't find anywhere else. Attendance lists, roll calls and name tags make this one deviously organized city.

:bigthumb126065991:
Now, as always, it is nearly impossible for one person to document the thrill of these events. I encourage you to read Journals by attendees as they give you an insight that
$
Heidi
and I couldn't. If you're interested in seeing more photos and reading more about what took place, these links would be a great place to start;
c1a2t345
,
cei-
,
eldris
,
dxd
,
synfull
,
daemonriot-x
,
peskaa
,
chiaroko
,
ablativelove
,
angelwillz
,
pixel-spotlight
,
poisonedrose
,
beccalicious
,
zilla774
London, you were truly
EPIC
!


&