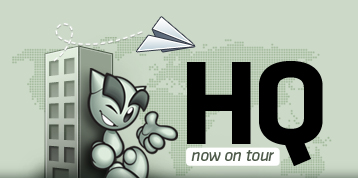 We had a great time in Paris meeting deviants from all over France who came out to the Louvre this past Thursday. We had a terrific turn out, especially since we bumped up against exam times and all kinds of srsbnss with very little notice, as usual. There was a little less than a hundred of us, and we enjoyed the first sunny day in about a week together.
After a quick speech...
We split for one of the first official times into art groups; photographers, traditional artists, digital artists, literature/writers, etc., so that we could get to know each other better. Meanwhile, I nabbed groups of 12 to 20 people to give tech demos for the upcoming Portfolio, Groups and search engine/front page modifications to deviantART.
Meeting deviants is a whole lot of fun as we have so much in common. A crowd of unfamiliar faces becomes a group of old friends faster than you could reasonably expect in a different setting...
:bigthumb125616823:
:thumb125617426:
:bigthumb125688525:
It was great to see
`
zemotion
in Paris; we first met her in Singapore and heard she may be coming to Paris for a photo shoot and she did! We got a sneak peak at some of her new shots and ... talk about DTF's waiting to happen. There was also a chance she'd head to London next for a photo shoot and that perhaps we'd see her there as well. FTW!

:bigthumb125616243:
The overall meet lasted for around 11 hours, beginning at 2pm. By about 8pm we had filtered down in to a
smaller
group than we started with, but there were still so many of us there was no going to a pub or restaurant without causing a riot! LOL
So we went to McDonald's and talked for three rounds of drinks until we couldn't take McDonald's, or the mice we found upstairs, anymore. Eek!...
It was time for a pub and pubs don't come easy in downtown Paris. So off we went for a long journey to a recommended place, which had a variety of beverages on tap

and pretty darn decent French cheeses as well. We talked camera equipment, life, love, and deviantART until it was clear this wonderful gathering had to end.
As a last minute bonus
~
LeMex
busted out the juggling equipment,
his first love is circus
he says, and dazzled us with neat tricks for a bit. What a guy.. and if you ever need to couchsurf in Paris, he's got one of the more popular profiles on
couchsurfing.org
with crazy stories to boot! (Nothing bad just really interesting!)

Cheers to a wicked time in Paris,
$
Heidi
and I look forward to seeing you guys again one day soon.


&

p.s. The task of properly updating you on the events of meets such as this is too immense for one person to cover. There are some really excellent journals that detail the meaning, and importance of these gatherings from a first person perspective from other attendees. I recommend these journals! (glad to add more if you find them):
taitai03
,
nekozumi
,
islamaia
,
ZeldaDreams
,
Norke
,
mindfuckx
,
re-d-d-ot
,
mateo52
,
NEOkeitaro
,
Vizen
,
Frequence-Coeur
,
Lemon-Hat
,
Tagath
,
Asmo-chan
,
Lioyd-Irving
,
Uncoporating-picture
,
frenchhasstyle
,
darkgallou
,
0ctans
,
Shadowa-93
,
LeMex
,
Eternal-S
p.p.s. Yes, it's true. I have happy and sad ninja umbrellas. Don't ask, it's a personal matter and it's none of your concern.