Journal Entry:
Thu Oct 13, 2011, 11:50 AM

New! Introducing the deviantWEAR Design Challenge!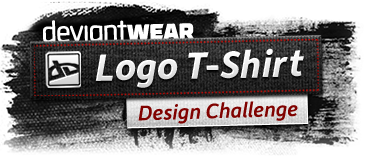 Have you ever wanted to be a famous shirt designer? Perhaps you've wanted to be the devil wearing Prada, approving only the hottest styles? There's something for
everyone
in our new
deviantWEAR Design Challenge
!
The concept is simple: we give you a challenge,
you
create the design,
deviants
vote, and the winners get paid if their designs are chosen by the judging panel.

Have some mad design skills?
Our first challenge is to design deviantART's newest logo shirt. Using the assets and template provided at the
challenge category
, create a shirt focused around deviantART's logo. Three finalists will be selected --
each
will receive $1500 cash and 25 units of their own shirt design. Plus, their winning design will be sold in the deviantART Shop!
Already have a great idea or want additional information? Visit the
challenge page
and expand the "Learn More" button to find out all the juicy details.

Not a designer? That's cool. Rock the vote!
We want you to have a say in which designs are the most attractive and that's why we're introducing a brand new voting system. Vote for your favorite designs from the category gallery view by clicking the
"I would wear this"
button or vote directly from the deviation page. The top 50 qualified voter-chosen pieces will go to the final judging process.

How does voting work?
You can only vote once for an entry and we will be keeping a sharp eye out for fraudsters. Also, just because a design has the most votes, doesn't mean it automatically wins. The 50 qualified designs with the most votes will move to the final judging round, where our panel of experts will pick the three hottest tees on the basis of how stylin' they are.

Not your type of challenge? That's cool too.
This is just the first in many design challenges we aim to host. Help us start this new venture right with some awesome designs and thoughtful voting!

Designers
, start your engines! Get creative and encourage your friends to vote.

Voters
, prepare to pick your favorites! Only you can help us decide which will be our top choices. The power is yours!
Get started
here
. The deadline for entries is November 1, 2011, so act fast!

Read the
Official Terms
for all the technical details.
Enjoy!
~
Heidi