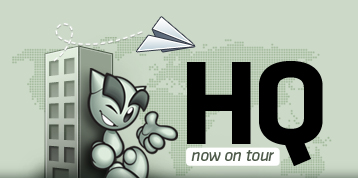 Yesterday, +
spyed
and I headed over near the Merlion around 3:00 PM (an hour before the deviantMEET was scheduled to start). As we grabbed a quick bite to eat at The Coffee Bean, we guesstimated how many deviants to expect for the day. We tried to gauge response based on feedback from previous #HQ blog posts, but really couldn't get a good sense of things. Only a few minutes into the conversation, we were quickly greeted by three deviants who recognized us from our Sydney deviantMEET photos. Good sign! A good sign, indeed.
A couple of hours later, our numbers had swarmed upward toward about 160 deviants -- all sweaty and hot under the blistering Singapore sun! Even so, the heat didn't stop our enthusiasm. +
spyed
took multiple groups of about 20 people and showed off our upcoming features and site enhancements. The news was so well received that during a few key moments, cheers erupted from the crowd. (Well deserved cheers, of course, but let's keep his ego in check people!
Oooh snap!
)
All kidding aside, the day couldn't have gone any better. We were even lucky enough to have `
Artgerm
, members of the Imaginary Friends crew, and `
zemotion
join us. `
Artgerm
was quite the popular guy, drawing sketches of
Pepper
for a few lucky deviants, and `
zemotion
shared a bit of photography knowledge with inquiring minds.
As things started to wind down toward the end of the day, +
spyed
and I began to reflect on the World Tour thus far. To say that things have surpassed our best expectations would be an understatement. I can't tell you how awesome it's felt to interact with so many deviants on a personal level. We've met 160 deviants in Singapore, 100 in Sydney, and still have many cities to visit and people to meet! The fact that people are taking time to 'visit' deviantART is amazing, exciting, and rewarding. The feedback and suggestions we're getting are invaluable and we can't wait to put some of those thoughts and ideas into action.
Awesome journals
to read about the deviantMEET!</B>
aeriim
,
az3nwr4th3
,
ayurism
,
copied-my-style
,
freaksville
,
fishkro
,
elena162
,
joyjoyfultherabbit
,
kittifiedmeow
,
kolout
,
irinthony
,
hexlord
,
haunter93
,
fridasuarez
,
lucinehellinson
,
lite-angelz
,
qadr
,
randy2491
,
realmicsorcerer
,
redstonean
,
snowskin
,
ss-oschawolf
,
scraps-alchemist
,
toilet-rollz
,
togusa208
,
timothy-sim
,
tanfukang
Singapore deviants!
We're trying to compile a list of everyone who attened yesterday's meet. If we've missed you, please leave us a comment so that you can be identified for your epic participation.






































































































































Stay deviant.


&

P.S. - $
Thunderstatement
is full of win.