New deviantART muro integration!
DeviantART muro has been taking the Interwebs by storm: a multi-colored, hand-drawn storm swiftly done in fun brushes with pretty rainbows and vibrant lightning bolts of awesome. But confining this awesomeness to deviations and the DrawPLZ forum seemed restraining for an art website, so we are proud to bring you the following...
Express yourself without words! DeviantART muro is now integrated with journal and news article commenting.
Words can be difficult at times. Even the most advanced emoticons and plz accounts can still fail to convey your true feelings. Or sometimes you just feel more comfortable expressing your innermost thoughts with imagery. Whatever the case -- for the lulz or for heartfelt sentiments that be conveyed no other way -- we are proud to roll out this new integration on everyone's favorite drawing tool, deviantART muro, into comments on journals and news articles!

It's true!
When viewing a journal or news article, look for the "deviantART muro drawing" text. This indicates that a deviant has left a drawing comment.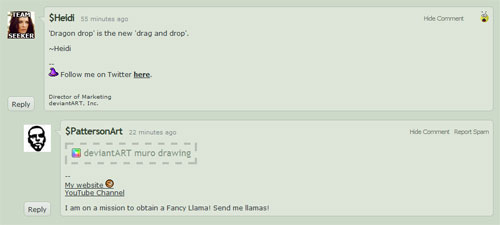 So, what exactly did someone draw? Is the suspense killing you? Simply click the "deviantART muro drawing" box to see what's inside.
Magic!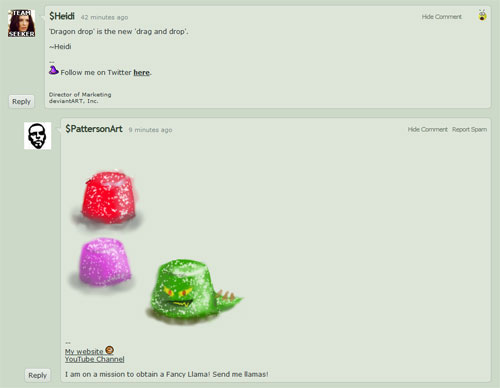 Tips and tricks!
Should you be so inclined to provide your eyes with a visual feast, it's also possible to view all drawing comments on a page (vs. clicking them open one by one). To expand all comments, click the "Load All Images" button located directly above the the comments section.

Or
, you can choose to always automatically load
all
drawing comments by updating the "Hide Image Attachments Until Clicked" options in your deviantART
Settings
. After visiting your Settings,
un-select
the "Hide Image Attachments Until Clicked" box under "Browsing."


Give it a try!
Ready to join in on the deviantART muro commenting fun? If you see a journal or news article that you think needs an extra kick of pizzazz with a special deviantART muro comment, just click the "Add a Drawing" button in the comments box.
Drawing in comments is quite similar to drawing in deviantART muro -- the controls are basically the same and the layout has been simplified, focusing on the basics so you can show off your skills. When you're set and ready to post, hit "Add Comment" and it will appear in the comment thread. It's that easy! (Be careful... if you close your drawing, you will lose your work and it will not be saved.)

What do I do if I see something mature?
If you find a comment that falls under the umbrella of Mature Content, you can hide it by clicking the "Hide Comment" option. However, this option only works if the comment is on
your
journal or a news article that
you've
submitted.
If this occurs elsewhere on the site, please report it to the CEA section of the Help Desk by going to
this link
or clicking the "Report Spam" option in a comment. Don't forget, you read what constitutes Mature Content by first checking out:
What is Mature Content?


Feedback is appreciated!
For now, you can only create deviantART muro comments in journals and news articles. We're
thinking
about expanding this feature so you can draw anywhere comments are enabled, and we'd love to hear your thoughts!

Get to it!
Leave us a nice drawing comment, won't you? Have fun and happy drawing!
~$
Heidi