Journal Entry:
Thu Jul 28, 2011, 1:24 PM
Over the past few months we've been keeping a watchful eye on the way that members in our community have been offering points as payment for certain types of services within deviantART. We've seen all sorts of creative uses, from offering to critique your work for a few points, journal features for a few more points and my personal fav -- avatars, journal skins and any other sort of art commission for points. It's been great to see deviants use their experience and skills to fund their super group upgrades, prints purchases and even treating their friends and families to their very first item of deviantWEAR.
As time rolled on, we noticed a new trend creeping in. People were not just offering a small number of points for a task that they'd normally do as part of their daily deviating -- people were offering thousands of page views for hundreds of points, and there seemed to be no limit to the amount that could be purchased, or offered. It didn't feel right, but we wanted to make sure that you guys agreed with us - and of course you did. So we've made some changes to reflect how we all feel about this matter of people essentially exploiting the system -- and ultimately exploiting you, the community.
FAQ #895:
Can I offer an automated service on DeviantArt in exchange for deviantPOINTS?
You may not use or offer any script, bot or any other automated 3rd party service in exchange for deviantPOINTS. If you are looking to increase your exposure within the community, you may wish to consider our
AdCast
service as an alternative option.
Deviants offering excessive and automated services in exchange for points will have their submissions detailing the offer removed, and your account may also face additional suspension should you attempt to bypass our policies.
This policy covers any "POINTS-for" scheme involving a machine-driven attempt to show false results in a member's statistical or performance-based metrics on deviantART. You may never use POINTS to solicit a vote from a member of deviantART in any participatory voting process conducted by deviantART.
In addition, you'll now find an amendment to the deviantART Points Terms & Conditions, which reflects these changes. We've highlighted the changes below, however you can view the full agreement
here
.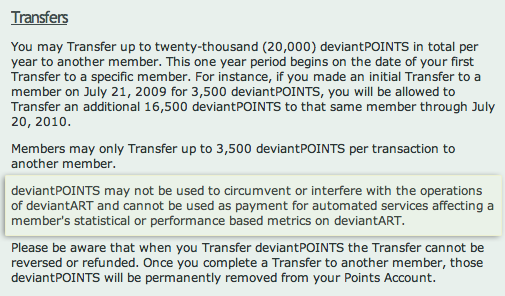 We've also amended our Etiquette Policy to reflect the update. We've highlighted the changes for you below, however you can view the whole of the policy
here
.

We hope that this clarifies our stance on the matter, however if you have any questions please ask! We're happy to help.